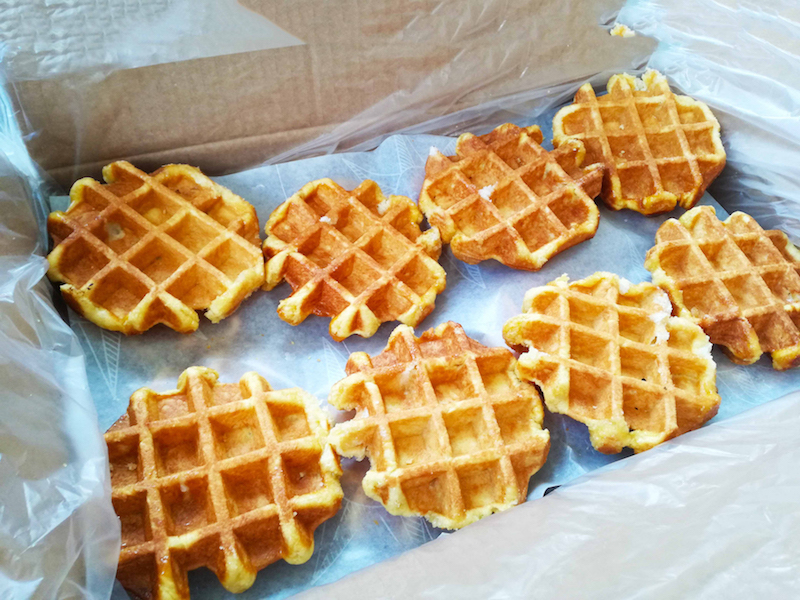 The Waffel with a longer shelf-life
Frozen Baked Waffel is a product ideal for those who require a longer shelf-life than the baked Waffel in protective atmosphere.
Our Frozen waffles can be stored up to 18 months  from production date at a temperature of -18 °C.
Frozen Waffel is produced both in small size 55 g and larger size  90 g.  Waffelman produces  frozen baked Waffel in the following flavors:
• Butter
• Pure Butter (palm oil-free)
• Cocoa and dark chocolate drops
• Vanilla
• Honey and Vanilla
• Cocoa Vegan with Chocolate Drops
• Vegan Orange (palm oil-free)
Frozen baked Waffel is sold by pallet, minimum order 1 pallet.
How to use the Frozen Baked Waffel
Waffelman frozen Waffel is a baked product, so all you have to do is thaw it and warm it up.
Before serving it, you must  thaw it at room temperature (1 hour), in a toaster (1 minute) or in microwave (20 seconds at 750 watts).
After thawing, you can heat it in a Waffle maker, electric oven or toaster for 1 minute. You can serve it with ice cream, chocolate, jam, cream or serve it plain.
Watch the video to see how to use the frozen baked Waffel!
Features:
Product: Frozen Baked Waffel;
Ingredients: WHEAT flour, vegetable margarine [ vegetable fats in variable proportion (palm, coconut), sunflower oil, water, emulsifier (E471), acidity regulator (E330)], sugar, pasteurized liquid whole EGG,  concentrated BUTTER (3.5%), honey, brewer's yeast, salt, extract of BARLEY, flavors. Contains: GLUTEN, MILK, EGG. May contain SOY.
Weight: 55 g and 90 g;
Available flavours: Butter (also  Palm Oil-free), Cocoa and dark chocolate Drops, Vanilla, Honey and Vanilla, Orange (also vegan).
Shelf life: 18 months from production date.
Storage: in refrigerator (+ 4 ° C): 48 hours, in ice compartment (-12 ° C): 4 days, in  freezer (-18 ° C): 18 months.
Packing: individually packed or bulked in PE bag.
Pieces per carton: 54 Waffel 90 g each , 72 Waffel 55 g each.