Waffel baked and packed in modified atmosphere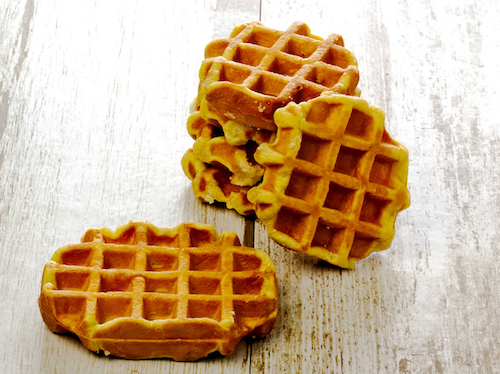 Waffel in protective atmosphere:  always fresh  
Baked Waffel packed in protective atmosphere is always fresh.  Waffelman baked Waffel in protective atmosphere is produced in the morning and shipped the same day to ensure freshness and quality of the product.
Waffel are packed in MAP, 55 g and 90 g, Butter and Cocoa flavours.
For minimum orders of 1 pallet of baked Waffel in protective atmosphere, the following flavours are also available:
• Butter
• Cocoa
• Vanilla
• Honey and Vanilla
It has a shelf-life of 90 days from production date.
Our Baked Waffel in MAP retains all the nutritional and organoleptic properties of fresh baked Waffel.
Ideal for your business
Waffelman baked Waffel in protective atmosphere can be served at room temperature or heated.
You can taste it plain or topped with ice cream, chocolate, cream, jam etc. It is ideal for ice cream parlours, yoghurt shops, bars, but also for restaurants and pizzerias that want a quick dessert  for their menu.
Heat it for a few seconds and put it on a serving dish, with ice-cream, chocolate or fruit salad. Customers will love your waffles!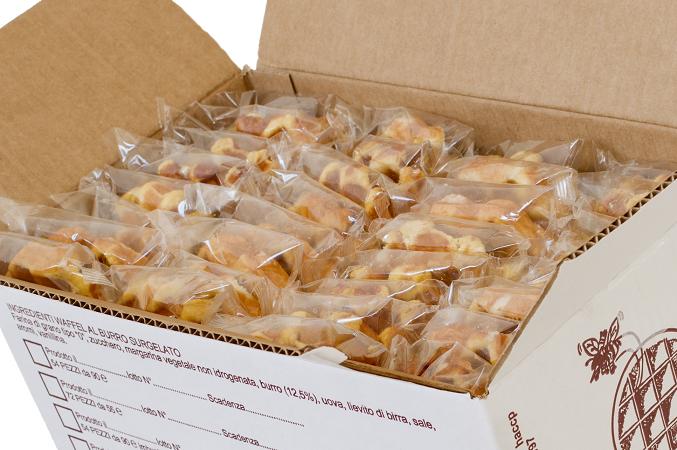 How to Use Waffel in protective atmosphere
Baked Waffel in protective atmosphere is a ready-cooked product, so all you have to do is unwrap it and serve it.

You can heat it in a Waffle maker, electric oven (no microwave), or toaster for 1 minute.
In just 60 seconds the Waffel regains its fragrance and is ready to be topped and served.
Watch the video to see how to use Waffelman Waffel!
How to buy our Waffel  
Waffel in protective atmosphere are sold individually packed in cartons of 72 pieces (55 g) and 54 pieces (90 g).
Waffelman sells Waffel in protective atmosphere packaging  in counter display cases with 28 pcs, Butter or Cocoa flavour 90 g Waffel.
The counter display ensures maximum visibility of the product by the customers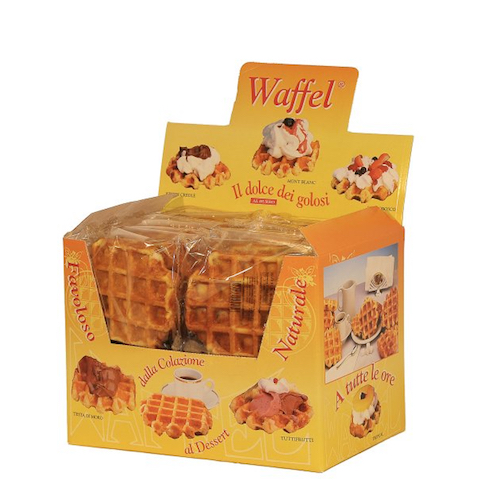 Features:
Product: Baked Waffel with butter individually wrapped in protective atmosphere;
Ingredients: WHEAT flour, vegetable margarine [ vegetable fats in variable proportion (palm, coconut), sunflower oil,  water, emulsifier (E471), acidity regulator (E330), sugar, pasteurized liquid whole EGG, concentrated BUTTER (3.5%), honey,  brewer's yeast,  salt, extract of BARLEY, emulsifier (E472e), flavors. Contains: GLUTEN, MILK, EGG. May contain  SOY.
Weight: 55 g and 90 g;
Flavour: Butter, Cocoa;
Shelf life: 90 days from production date
Storage: in fresh and dry place away from light and heat sources. Recommended temperature +18°C
Packaging: in carton (foodservice) and  counter display case (retail);
Pieces per carton: 54 pcs Waffel 90 g each, 72 pcs Waffel 55 g (foodservice); or  4 counter displays cases in one carton
Pieces per counter display cases: 28 Waffels 90 g each.