Multimix Powder for Waffles, Crêpes and Pancakes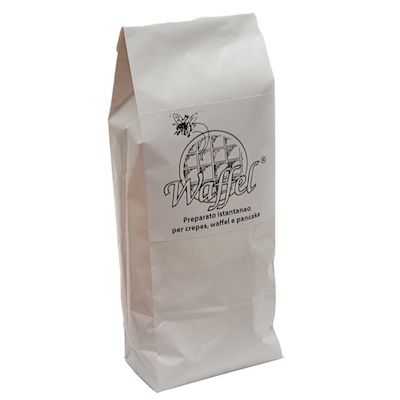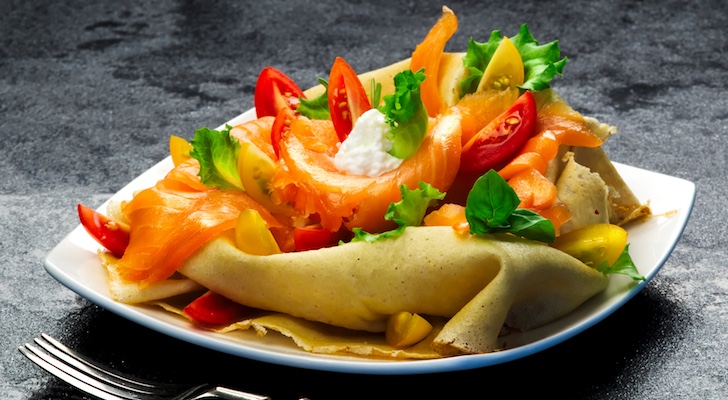 Neutral powder preparation for Waffles, Crêpes, and Pancakes
Multimix powder preparation for sweet and savoury recipes.
Waffelman Multimix powder preparation is a special product in powder to prepare Waffles, Crêpes, and Pancakes.
With Multimix Powder you can enjoy yourself in the preparation of sweet and savoury recipes, as it is a neutral, sugar and salt-free product.
Easy and fast to use
The Multimix Powder is sold by Waffelman in cartons of 10 bags of 1 kg each.
To use Multimix Powder, you only need to add water, since it already contains all the ingredients that are used to prepare Soft Waffles, Crêpes and Pancakes; you only need to change the amount of water depending on the recipe you want to prepare.
Multimix powder preparation is prepared only with high quality ingredients, such as wheat flour 00, full-cream milk, pasteurised eggs, and butter.
Multimix powder preparation doses
To cook the delicious Soft Waffel add 950 ml of water per 1 kg of Powder, while for Crêpes a minimum of 1.6 l of water for 1 kg of Powder. For Pancakes and Blinis, add from 950 ml to 1350 ml of water for 1 kg of Powder.
It is possible to vary the amount of water to obtain a more or less fluid dough. If you want a sweet dough, you can add from 200 g to 350 g of icing sugar for each kg of Preparation.
Summarising, these are the doses of water and Multimix Powder:
Soft Waffel: 1 kg of Powder + 950 ml of water
Crêpes: 1 kg of Powder + 1.6 l of water
Pancakes and Blinis: 1 kg of Powder + 950-1350 ml of water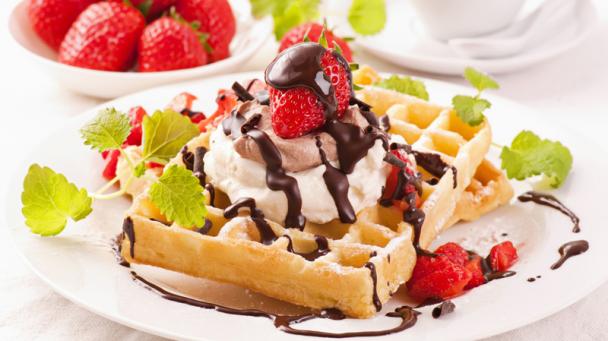 How to use Multimix Powder with a Food Mixer
If you have a Food Mixer, it will be easy to use Waffelman Multimix Powder. Put the content of 1 or more bags in the mixer. Run the mixer at low speed (speed 2) for about 2 minutes. Put water into a jug and pour it inside the moving mixer.
Now you can increase the speed (speed 3 or moderate) of the mixer for 3 minutes. After 3 minutes, remove the bowl and check that the product is well-mixed (if not, use a whip to remove any lumps). Once the preparation has been completed, let the mixture rest for 15-20 minutes at room temperature.
How to use the Multimix powder Preparation with a whip or immersion blender
The preparation can also be carried out only with a whip or with an immersion blender.
You only need to put the Powder Preparation in a bowl with water and stir well until the mixture is homogeneous and without lumps.
Then put the dough into a suitable container and let it rest for 15-20 minutes before using it. Once ready, the mixture can be stored in the refrigerator for 48 hours.
Features:
Product: Multimix Powder Preparation for Soft Waffles, Crêpes and Pancakes;
Ingredients: Wheat flour 00, full-cream milk powder, pasteurised eggs powder, egg white powder, non-hydrogenated powdered fat, rice flour, powdered cream, powdered butter, salt, dextrose, malted cereal flour, emulsifier E472e, yeast agents: E450i / E500ii, flour treatment agent: ascorbic acid, wheat starch, calcium carbonate E170i, alpha amylase, flavourings. Contains gluten, egg, soy. It may contain traces of milk;
Packing:  kg bag or 15 kg sack;
Bags per carton: 10;
15 kg sack per carton: 1;
Shelf life: 18 months from production date;
Storage: in fresh and dry place away from light and heat sources. Recommended temperature +18° C.