Electric Crêpes maker for Crêpes, Pancakes e Blinis
Lagrange Maxi Crêpes maker
Lagrange electric crepes maker is the electric plate for baking and heating Waffelman Crêpes.
35 cm diameter, teflon-coated aluminium plate, removable and washable with lukewarm water.
Thermoplastic material and steel base with adjustable thermostat.
Complete with batter spreader and wooden spatula.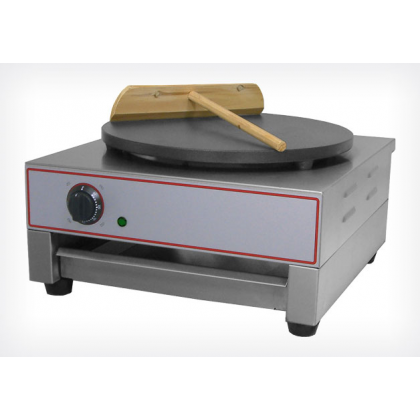 Macchina per Crepes CREPES MAKER DE -1
Crêpes machine with enamelled cast iron plate. Solid and easy to use. 
Mod. DE 1                    
Code: PIA03185
Power: 3 kw / 230V
Weight: 23 kg
Ø Teflon cooking surface: 400 mm
Temperature: +30°C – +300°C
Dimensions: 450x485x240 mm
Packaging dimensions: 520x620x340 mm
1 wooden rake included