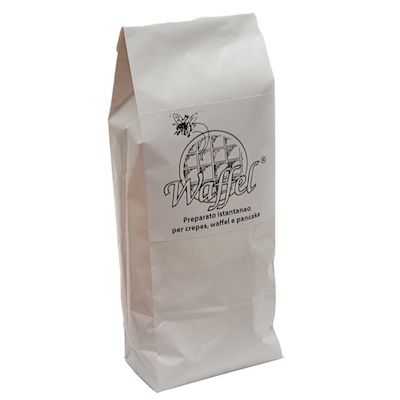 Sweet Mix for Pancakes
Special for Pancakes is the lastly created powder preparation together with the special one for Crêpes.
Our objective was to give pancakes the right softness, and with this recipe we found the perfect combination of the ingredients to obtain the ideal sensation of softness and flavour, with the right sweetness, and tasty even if served plain.
To prepare a nice and fast breakfast, you only need to mix the product with milk, wait for the time indicated in the recipe, and then proceed with the cooking.
Pancakes are also a good idea for children snack, to be eaten with maple syrup, or with fresh season fruit and creams.
We have always paid great attention to the quality of the ingredients, all our products are preservative-free, colourings-free, GMO-free and hydrogenated fats-free.
How to prepare Pancakes
To obtain soft pancakes we recommend putting the mix in a bowl or food mixer and let the product rest for a few minutes, then pour slowly 1.2 litres of fresh full-cream milk for each kg of Mix.
The batter is ready in about 5 minutes, and it can be prepared manually with a whip or with an immersion blender; to ensure maximum softness to the product, let the mixture rest before using it.
Once ready, the preparation can be stored in the refrigerator for 48 hours. To bake the pancakes, we recommend using the crepes maker with the special plate that can be found in our equipment section.
Features:
Product: Sweet Mix for pancakes 
Ingredients: WHEAT flour, sugar; pasteurised whole EGG powder, MILK powder, powdered yeast, powdered BUTTER, powdered CREAM, salt, butter and vanilla flavourings. – Ingredients of the reconstituted product – May contain SOY.  
Packing: 1 kg bags or 15 kg sacks;
Bags per carton: 10;
15 kg sacks per carton: 1;
Shelf-life: 18 months from production date;
Storage: in fresh and dry place away from light and heat sources. Recommended temperature +18° C.